well this week over at
kelly's blog
she's doing "show us your life- wedding parties & ceremonies" and since my anniversary is 2 weeks from today and everyone loves looking at their wedding pictures, i thought i'd join! how fun! i know the pictures are small but you can click on them to see a bigger version.
these are my 3 "best friends" heather, lyndsey, & erin. heather and i went to 3 year old preschool together, and have grown up in church together. we are going on 23 years of friendship- how fun is that? lynds was my matron of honor & we have been friends since going on a missions trip w/ our youth group to trinidad in 1997. you may remember erin from
this post
, and we have been "far away friends" since 1993 i believe! i love these girls!!!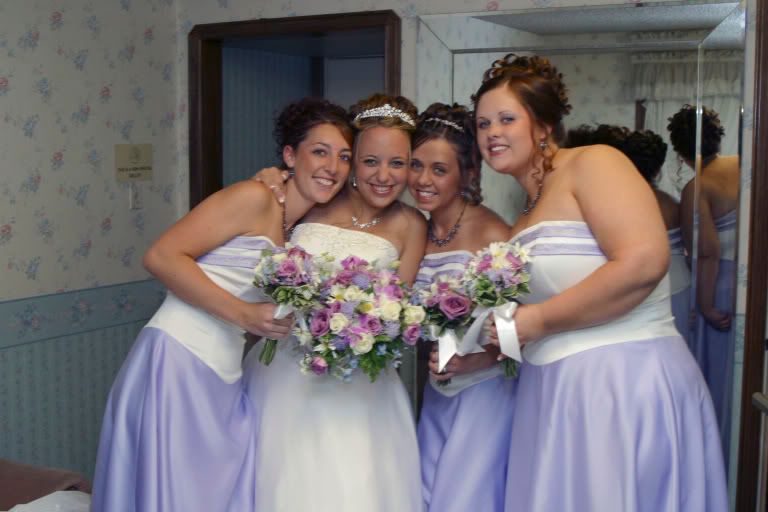 here are all my lovely ladies! they wore lavender & white strapless dresses, which i thought were so summery & flattered every one of them. clockwise from the left is erin, staci (my sis-in-law), mandy (my closest friend from master's commission), heather, stephani (my other sis-in-law), brittany (my cousin), lynds, & courtney (my jr bridesmaid).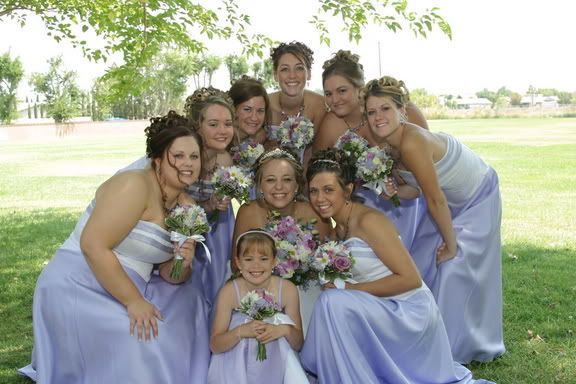 my dad walked me down the aisle to "a moment like this" by kelly clarkson. he bawled the whole time, but of course says it was his allergies ;) i was so excited about getting married that i couldn't wipe that giddy grin off my face!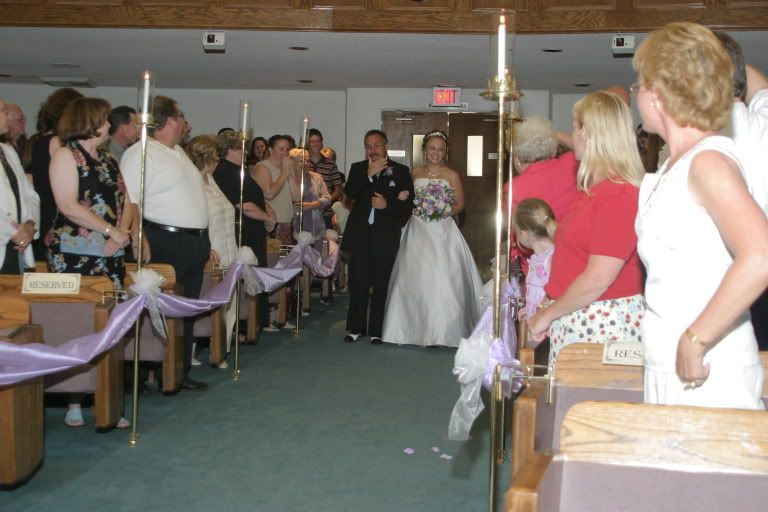 i got married at lancaster first assembly in lancaster, california... i had gone to that church my whole life (minus when i was in master's commission and now that i've moved to alabama). my pastor from that church married us and it was a beautiful ceremony. we had all the couples stand in pairs on the stage and & loved how it looked!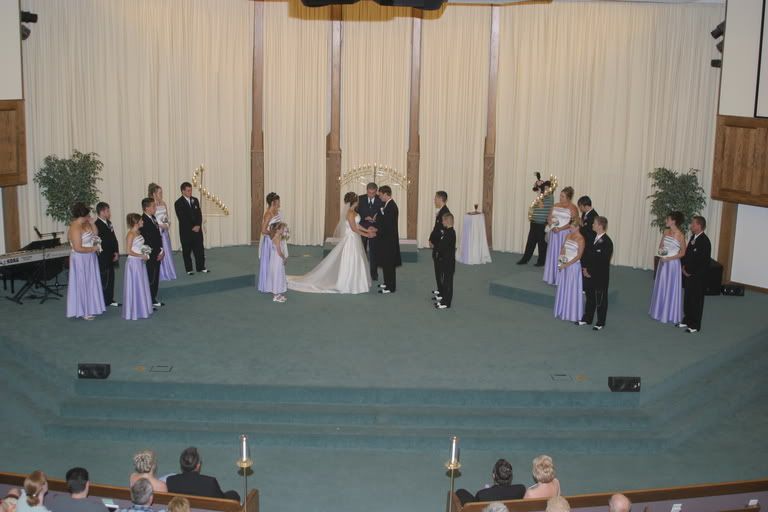 we walked out to natalie grant's song "days like these" and it was so fun and exciting. as you can see the guys wore zoot suits (is that how you spell it?) with two-toned shoes. so fun!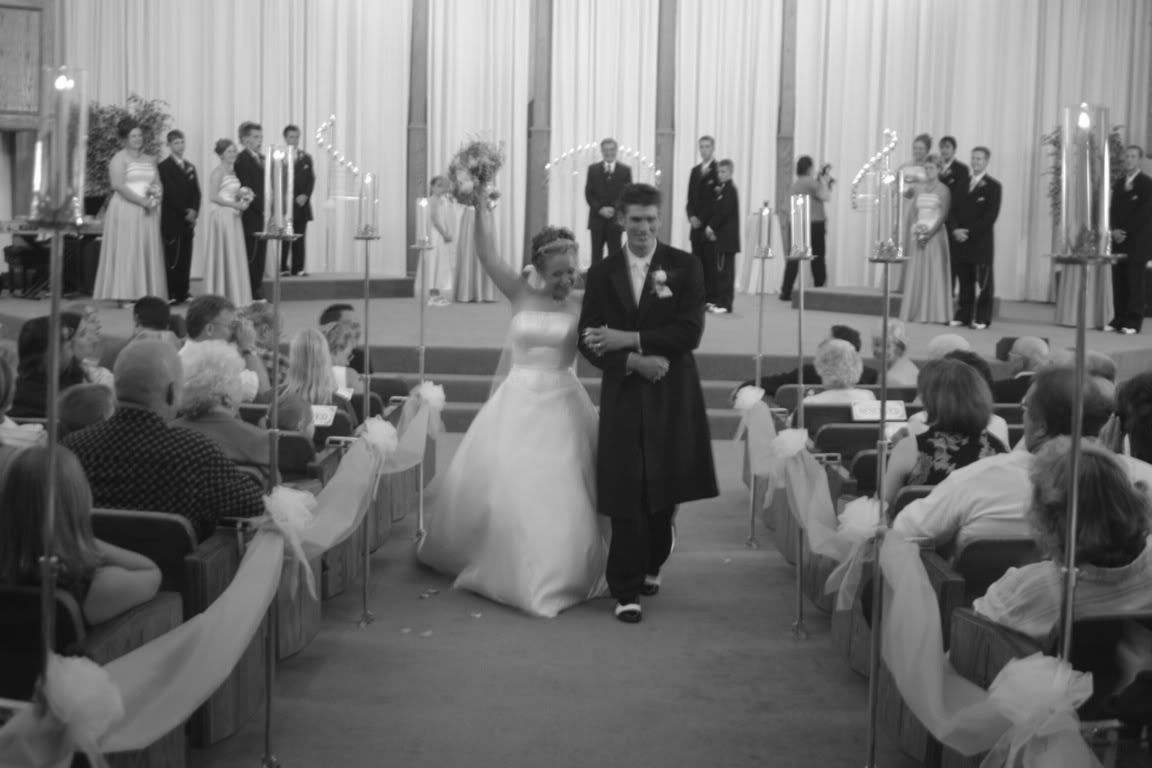 this one is a must for clicking on to see the bigger pic! it's our whole party (groomsmen, bridesmaids, ushers, candle-lighters, jr's, and ring bearer/flower girl). we just had a big, fun party!!!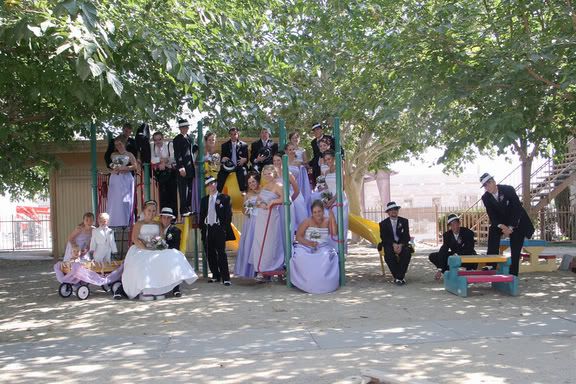 i cannot believe in two weeks (august 14) this will be 5 years ago! i still remember every detail of that day (especially the 107 degree temperature!). how fun to remember it all!