so apparently this post is going to be mainly about nolan. he's had quite the exciting last couple of weeks!

he slept in his crib for the first time the other day. i was avoiding it as long as possible because 1) he has to share a room with sean and 2) i feel like he's growing up so fast. but, i couldn't avoid it any longer... he was as long as the bassinet and had no room to move! it actually has gone pretty well!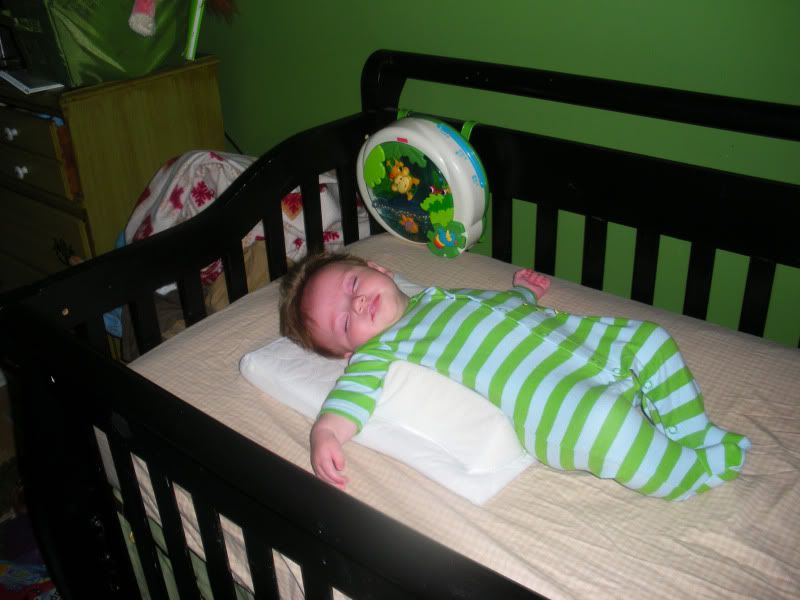 he has been rolling over like crazy! he rolls from his back to his tummy then onto his back again, all over the floor. i'm amazed at how strong he is (sean was over 6 months before he rolled from his back to his tummy).

he started in the middle of that blanket and rolled all the way to the swing, which he was obviously unhappy about ha!
he also had his first cereal, which i was also avoiding, because yet again he is growing way too fast. he wasn't really a fan of it, he just wanted to grab the bowl or spoon and play with those! i just enjoy nursing this little guy so much that i really didn't mind that he wasn't a fan. of course we keep trying, but for now he's still pretty much only being nursed.
if i could afford it, i'd buy all of my boys clothes
here
my parents will be here in 16 days and are staying for 3 weeks. i am VERY excited!
a few of my friends and i are doing a daily food journal, and texting it to each other every night. also, each week one of us will make up a challenge to do on top of the journal, and then keep adding every week. so far our challenges are: drink 80oz of water a day, exersize more than usual, and not eat after 7:00pm as much as possible. let me tell you, knowing you have to tell someone everything you eat sure makes you think twice about what you actually do eat. i'm hoping this will really help me shed the baby weight... and then some! ;)
and last, i was able to do my first engagement session last week, and am just in love with the photos! here is a picture from the session. if you want to see more, head over to my
photography site