many people have been asking me for my cake ball recipe. now, i will not take any credit for this... i found the recipe on the web, but i will be happy to share it with you! this was my first try making them and i am hooked... i don't think i'm ever gonna make a regular cake again! LOL

ingred
ients:
1 box cake mix (and whatever you need to mix in w/ it to make it; i used dark chocolate)
1 container of icing (i used whipped cream cheese icing)
almond bark (comes in reg or white chocolate, i used reg chocolate) or candy making chips (comes in all sorts of colors at craft stores such as hobby lobby or michaels. they sell some at walmart but not as big of a variety)
sprinkles (optional)
chocolate chips (optional)
dire
ctions:
bake cake by instructions on the box. let cool then place in fridge. overnight works best, but for at least several hours.
once cold, break cake up into little pieces in a large bowl
add
entire
container of icing and mix well (this is a get your hands messy job)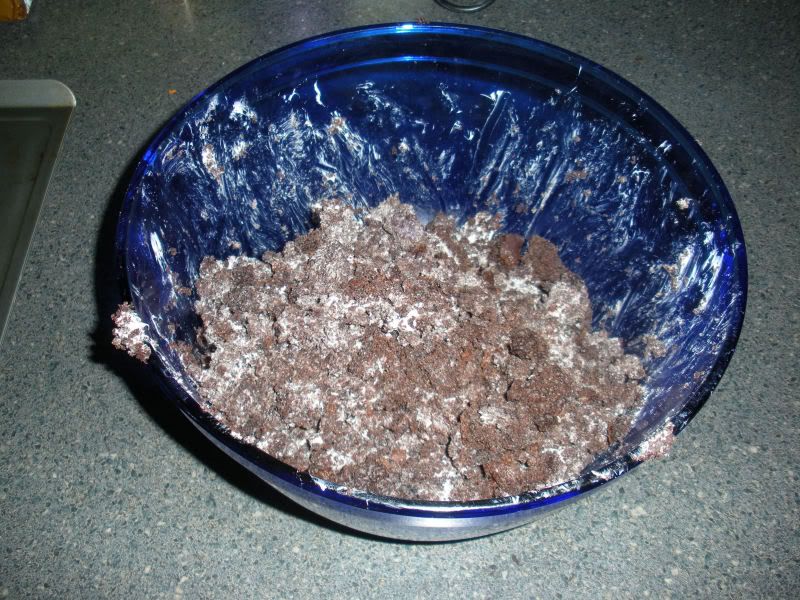 you can also choose to add other "fun" things in this part. i added chocolate chips and sprinkles in half of my mixture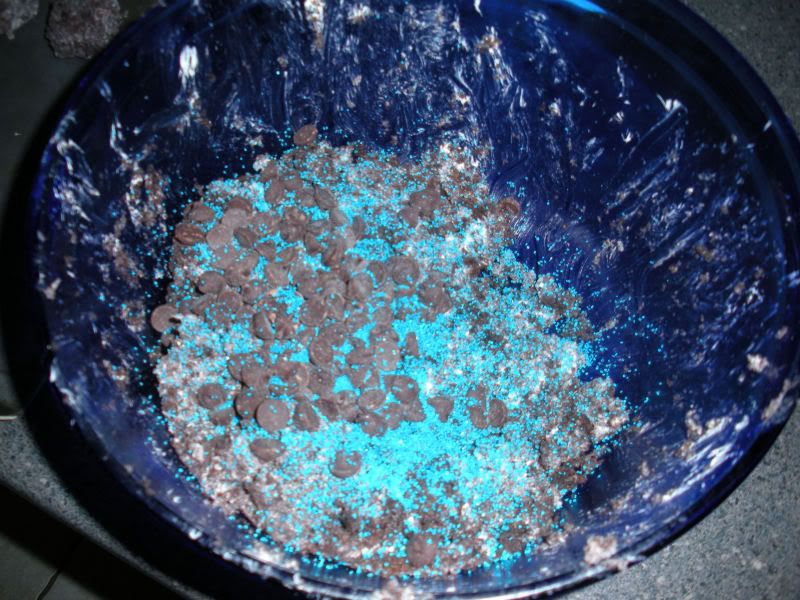 then you roll them into balls (a little smaller then golf ball sized is what i did, but you really can do whatever size you want). if the icing is not mixed in well they may fall apart a little easier, so make sure it's mixed well! the size i did made 30.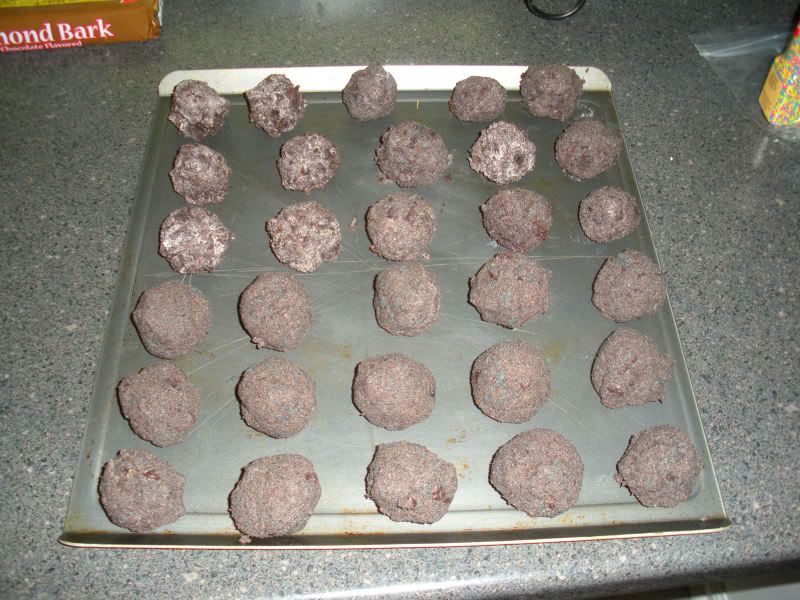 after they are all rolled, put back in fridge to chill for an hour or two. they work better when covering with the chocolate that way. melt chocolate as directed on package. place 1-2 balls in chocolate. do not roll them in the chocolate, they will fall apart. instead, use a spoon and pour the chocolate over the top (mine look like meatballs in these pics)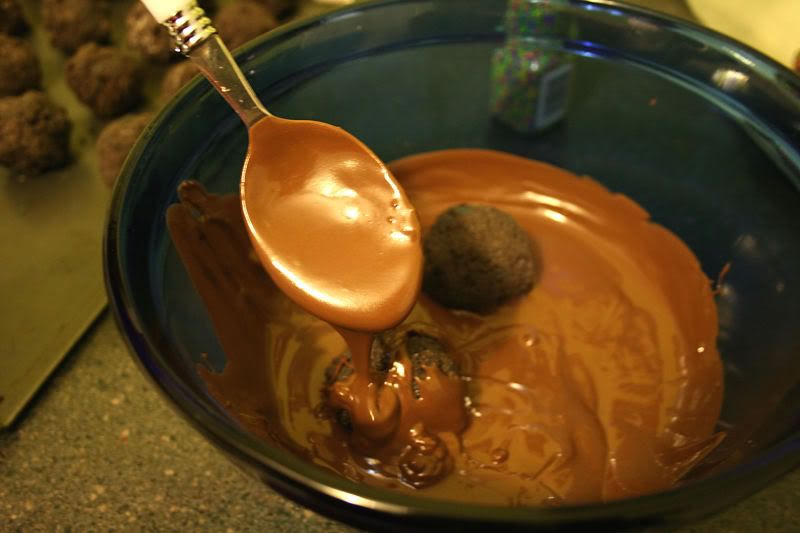 pick up cake ball with the spoon and tap on side of bowl. this will help smooth out the chocolate and get rid of any excess.
place balls on wax paper covered cookie sheet. this part can be tricky, a lot of the times the part of the ball that was on the spoon will have less chocolate, so make sure to cover if needed. the directions i read said to go around the pooled chocolate on the bottom with a toothpick, so when they harden they will be a perfect ball. i didn't do that step because i liked the pooled chocolate look ;) what i did at this part is covered the top with sprinkles while it was still wet. this is the perfect part to get kids involved. mine was interested for a whole 3 seconds.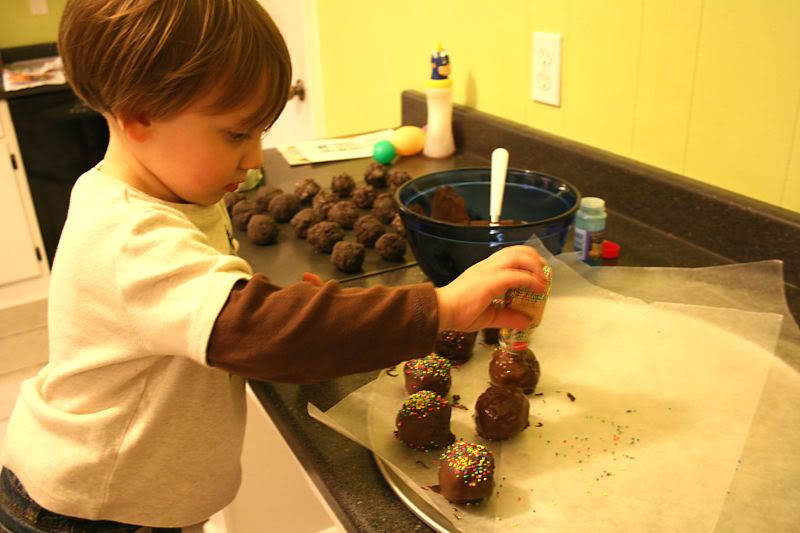 you can also use the candy making chips or a different color almond bark (even putting food coloring in the white chocolate), melt, and drizzle over the top in stripes, circles, or other designs. i chose the easier route, and i think the sprinkles looked good!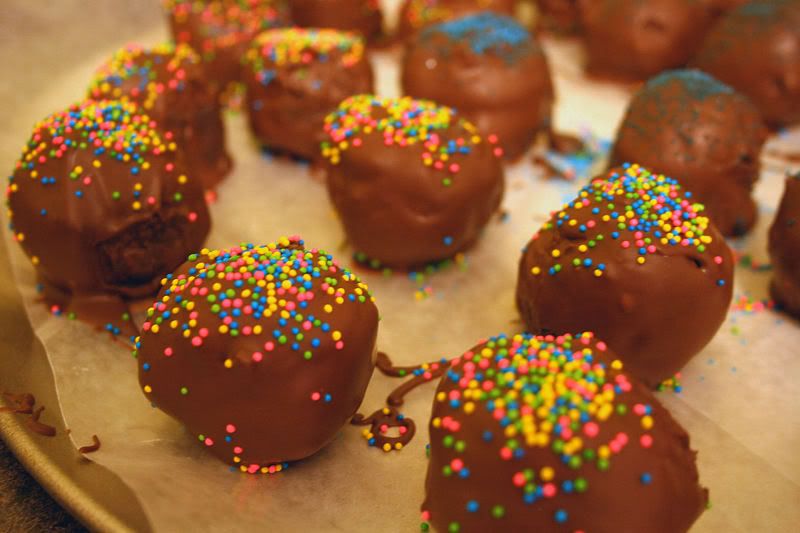 the chocolate will harden fastest in the fridge. let harden and serve! they were a HUGE hit with everyone who ate them. i know there are a lot of steps, but they were actually very easy to make! in fact, i did it all by memory.
please leave a comment letting me know if you plan on making these, if you have made them, or if you have any suggestions in making them better! enjoy!