we bought our house as a "fixer-upper." we have been living in the house while we fix it up (i don't really recommend that lol). sean's room was the first room we tried to finish. he was about 8 months when we moved in & needed some security, a constant if you will, in our chaotic remodeling extravaganza (which 2 years later we are still working on, but that's another post...). i am so proud of this room, it's my favorite in the house (well that & the kitchen). so i thought i would share with you, and with
kelly
(who had the great idea of showing off rooms in your house)
*you can click on any picture to see a larger version


the room started out purple. dark, depressing, ugly purple. purple is my favorite color & i didn't even like it. so we had some of the teenagers from church come over & help us take care of that.
next on the list was the floor. the carpet was
disgusting
. we don't think the people who lived in the house before us ever cleaned (& i am not being dramatic). so we pulled that out and put in some bright, cheerful, virtually indestructive pergo floors. before we (and by we i mean my husband) laid the floors down we wrote scripture verses on the sub-floor (we actually did this in our
entire
house) so that our house would literally be grounded on the Word of God (if you look in the bottom right hand corner you can see one of the scriptures).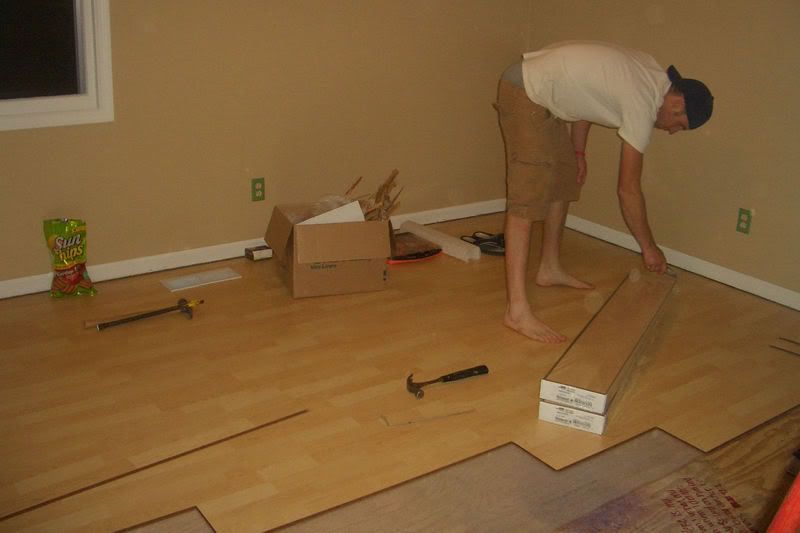 this is me painting a scripture on the wall above where the crib was going to go (more on the scripture later)
here is a picture of the finished product. we did a "
safari animal
" theme. i really didn't want it to be too "nursery" looking so sean could grow into it. we prayed about and chose the verse over sean's crib as one we wanted to speak over his life. it says "i have written to you young man, because you are strong, and the Word of God abides in you, & you have overcome the enemy." (1 john 2:14)
i made the curtains out of shower curtains. i cut about a foot off the bottom, cut them in half, and hemmed them up. i highly recommend this as an inexpensive & easy alternative to buying curtains for the room. i found some safari animal shower hooks at target that looked adorable with our room theme.
the little green end table in the above picture and the green dresser in this picture were both found in my in-laws' basement, screaming for a home. and since they matched perfectly, well...
we bought the changing table and crib at an unfinished furniture store and painted them ourselves. we wanted black, we wanted sturdy & a lasting investment, but we didn't want to pay a fortune. although i absolutely love them, it was a PAIN painting the crib. it took
forever
! this changing table was a breeze to paint.
and the final view (the wagon is no longer in there, but it used to hold all his toys)
we are in the process of rearranging the room. we are going to have to fit a big boy bed (which my husband is going to make) for sean along with all of this stuff. sean is currently sleeping on a twin mattress on the floor, nolan is still sleeping in a bassinet in our room, & the crib is empty. but, we'd like to make the transition of moving nolan into his crib sometime within the next 6-8 weeks. we'll see how sharing a room will go...
go to

kelly's

site if you want to see other adorbale nursery/kids rooms